ramble on
Sunday, August 23, 2009
If this post is long and convoluted and has many spelling errors, I'm truly sorry. Actually I'm not. I could care less really, I'm that tired.
It's been a very long 36 hours. Friday night I went out with 4 other ladies to celebrate Tanya's Birthday. I attended the dinner portion only, as I had to go home and make a cake for Mady's party the next day.
But dinner was fun, and yummy. Actually, it was the best Pad Thai I'd had in a while.
mmmmm Pad Thai. I shouldn't have written that. Now I want some for dinner. Not that crap I'm making now ...
stop rambling nicole
So anyhow. Lovely dinner. Few pictures, and then nick calls. He is supposed to be starting the baking of the cakes, but calls to inform me that oh, I forgot to replace the vegetable oil. ughhh... so NOW I have to pick some up on my way home. Which is 9pm. So my plan in my head where nick had the cakes already baked for me, and all I had to do was come home and decorate was out the window.
I was not happy.
Neither was Nick. Let me tell you, baking this cake was like test to our relationship. We haven't argued that much, well...ever I don't think. Apparently fondant doesn't bring out the best in us.
3am I finally fall asleep. Cake looks bad. I don't care at this point.
I dream of cake.
More like nightmares of cake.
Wake up at 7am to Mimi saying " Im ready to go now mom". You see, today is the day of Mady's Movie Theatre Birthday Party. But Mimi and Nevaeh aren't coming -as the movie is too old for them. So they are spending the day at Nana's house.....She's ready, at 7am. She's not going until 1pm
I think to myself
it's going to be a long morning
Finally get everyone where they are supposed to be and head off to the party..with 8 girls.
VERY well behaved, sat through the entire movie (I think only 3 had quick washroom breaks....that's not too bad!). I actually enjoyed
Band Slam
. I'm a music fan, plus a HUGE fan of
David Bowie
, so was right up my ally. Plus the song they covered at the end is my favorite
Bread
song. Actually, only song by
Bread
I like....But still, good tune
And I'm rambling again.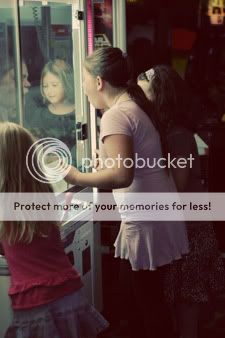 nick watching the kids trying to get a stuffed animal....they didnt manage ...but it occupied them for awhile
And then all of our hard work distroyed in seconds. At least it tasted good
Nick thought my reaction to the demo of the cake was humorous
Jerk